City of Light
p>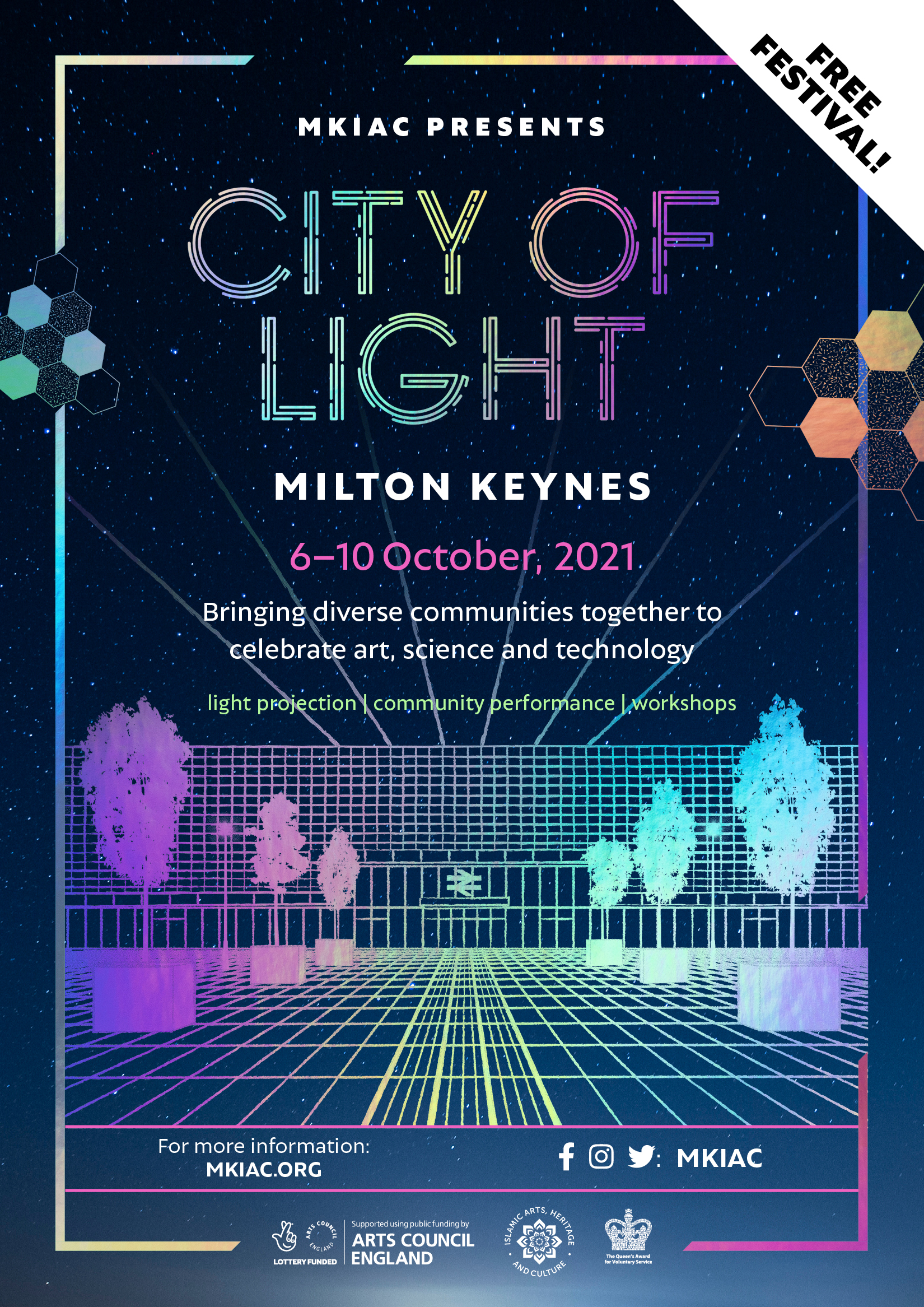 ABOUT THE EVENT:
MKIAC presents the 'City of Light' festival from 6th - 10th October 2021 in Milton Keynes. We want to bring our diverse communities together to celebrate the intersection of art, science and technology. Building on the success of the Codemakers Digital Light 2019/20 project, get ready for light projection, community performances and workshops at Bletchley Park, MK College, MK Innovates and Station Square. Join us as we light up Milton Keynes!
EVENT SCHEDULE
6th October
'Using technology to amplify diverse cultural narratives'
Event: Panel Discussion
Date: 6th October
Time: 11 am - 2 pm
Location: Bletchley Park
Register to attend: https ://bit.ly/2VE9h7J
About the event:
How can technology be used to democratise the cultural sector and its subsequent impact on wider society? In this emerging and exciting intersection between culture and technology, we dive into the opportunities that exist to involve new perspectives and audiences as well as the barriers that are there for diverse communities to be involved. Discussing tangible ways to overcome these issues is central to the discussion.
7th October, 2021
Creativity to tackle the Climate Crisis
Event: Panel Discussion
Date: 7th October
Time: 11am - 2pm
Location: MK College, Chaffron Way
Register: https://bit.ly/3nAMq8H
About the event:
This panel includes important voices that are vital as we step up to the challenge of climate change. We are bringing together local changemakers from the business and technology communities, educators, grassroots campaigners, students and members of the arts and culture sector to discuss the need for creativity in our response to the urgent challenges we are facing and are soon to face. Creative solutions can fuel change, be it an art installation to change public opinion, new technologies to replace or optimise fossil fuels usage and minimise wastage or slogans to catch our attention. We ask our panellists; can creative solutions in all industries build connection to the climate change crisis? How can it help shape local action? And how technology can amplify our creative ideas in the future.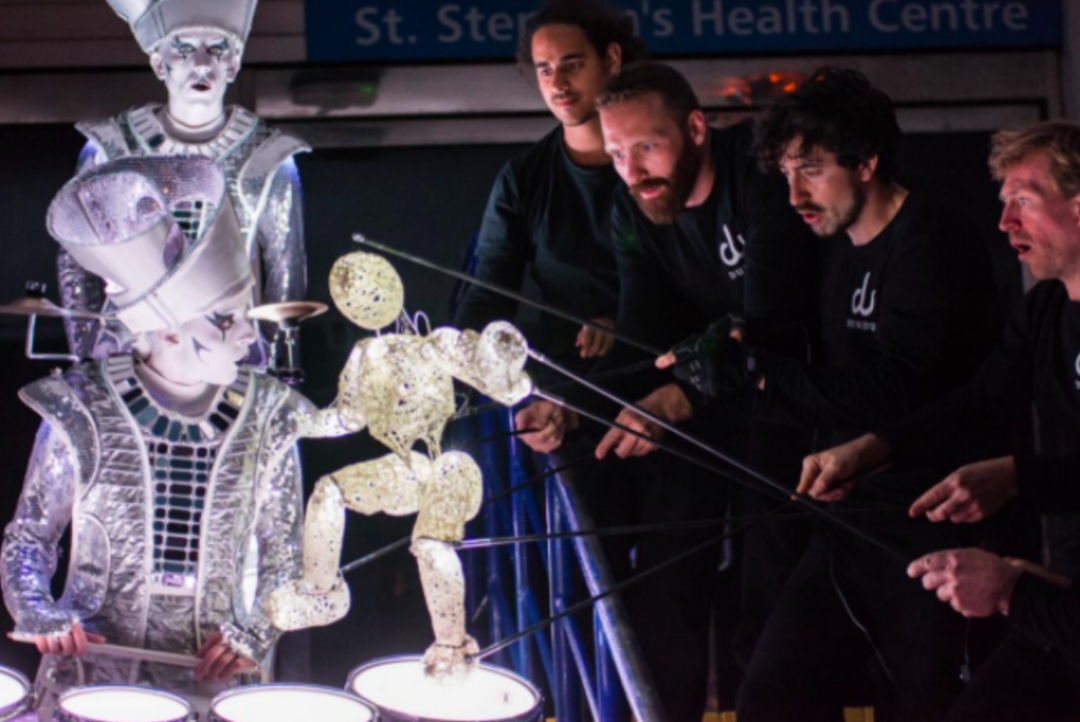 [Photo Sarah Hickson]
8th and 9th October, 2021
MK Innovates STEM Festival
Event: Come and visit our stand at the festival to take part in art and science workshops!
Date: 8th and 9th October, 2021
Time: 10 am - 4 pm
Location: Midsummer Hall
Come and visit us at our stall at MK Innovates STEM festival, where you can learn all about the Islamic origins of sciences and maths concepts and understand their practical applications today! Find out why creative thinking is so important for all future careers, and especially in STEM.
Explore shape and space with us as we ask the tough questions; which platonic solids are the easiest to build? Which are the most difficult and why? Can you construct a trussed bridge structure? What is the tallest structure you are able to build? Can you build a dome using geodesic principles?
For younger children, we have an activity introducing them to Tehzip, which is a traditional art form from Turkey. Our artist-facilitator, will explain the significance, history, mathematical concept and then let participants fill their designs related to Turkish Tehzip traditions.
For more information, visit: https://www.mkinnovates.co.uk/
9th October
The highlight of our festival!
Event: A parade show with music and dance, followed by community concerts and a laser light show!
Date: 9th October from 6.30 pm
Time: 6.30 pm - 10.30 pm
Location:
6.30 pm - Meet at Midsummer Place for parade show
7.30 pm onwards - MK Central Station Square
A 50–60-minute dusk parade show bringing together two of Europe's most in-demand outdoor arts companies: southern Germany's Dundu and the north of England's Worldbeaters. The parade will start at Midsummer Place for one mile, down Midsummer Avenue, to the Hub, and then onto to MK Station. This will be accompanied by African-style drumming from World Beaters, a Kora player and a Bhangra Performance by Eternal Taal.
Following speeches from dignitaries on the stage at the station, we will have large LCD screens, showing digital light projections, which have been designed through artist-led, community workshops. This is followed by performances from the Eternal Taal Bhangra group, the Fusion of Caribbean Steel Drum Band
To end, Seb-Lee Delisle's 'Laser Light City' project will take place. Lasers will be installed on the roof of the station and multiple arrays of powerful lasers will beam into the sky. The colours, patterns and positions of the lasers can be changed at will by the public via an ordinary smartphone.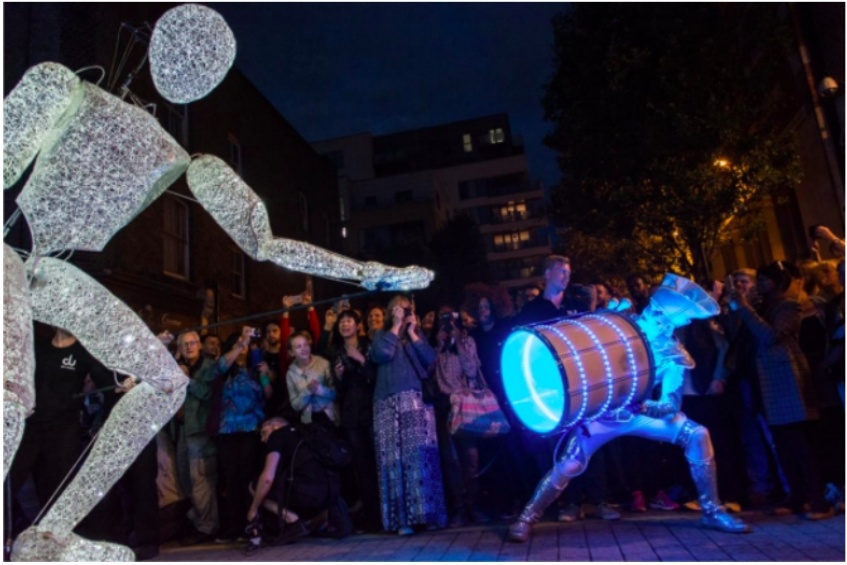 [Photo Sarah Hickson]
10th October, 2021
Event: Community concerts and a laser light show!
Date: 10th October
Time: 4 pm onwards
Location: MK Central Station Square
From 3 pm, we will have the Eternal Taal Bhangra group, the Fusion of Caribbean Steel Drum Band and more! As soon as it is dark, Seb Lee-Delisle's Laser Light City will be available again for MK citizens to enjoy until 9.30 pm.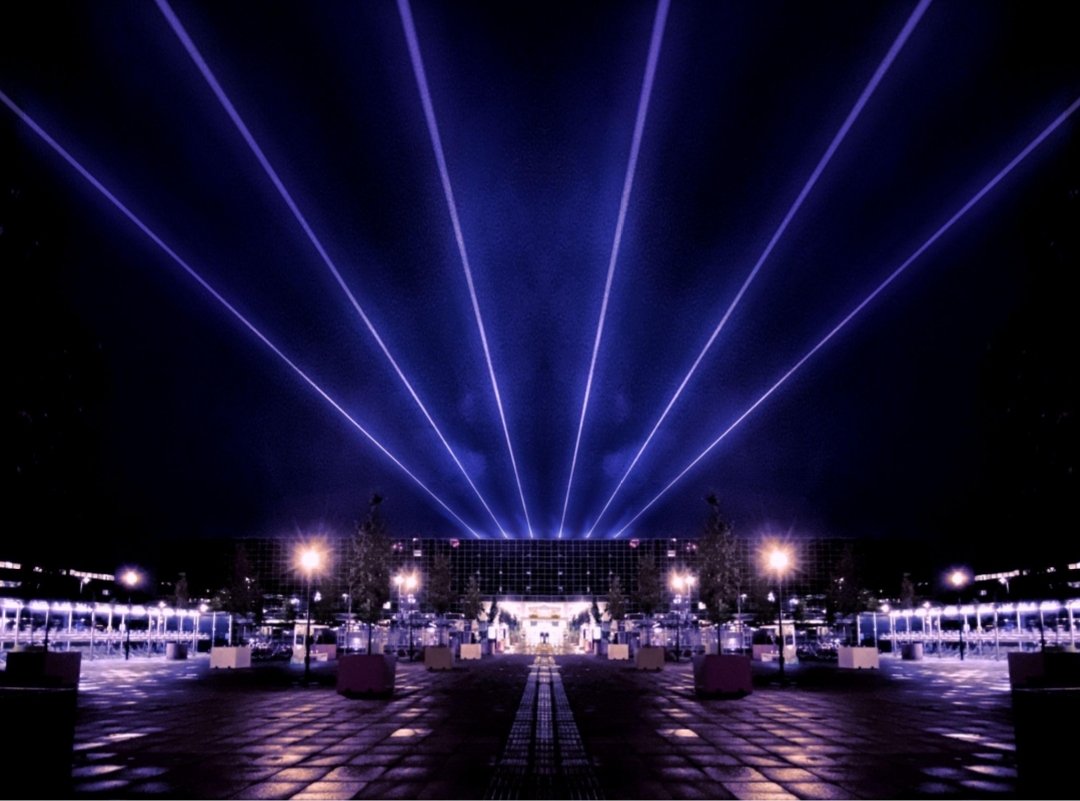 Seb Lee-Delisle Laser Light City [photo Tony Lee-Delisle]
FREQUENTLY ASKED QUESTIONS:

Q: What are the COVID regulations for this event?
A: We will be following the latest government guidelines for the particular events
Q: Are the events free?
A: Everything is free to attend and everyone is welcome! For the panel discussions on the 6th and 7th, we ask you to register in advance on Eventbrite, otherwise, you can just turn up!
Q: Are children allowed
A: Absolutely! On the 8th and 9th at MK Innovates, we have specially designed activities for children. On the 9th October, the parade and light spectacles will be loved by children and adults alike.
Questions? Mail us at mkiac@mkcollege.ac.uk
Other Projects