The City of Codes & Light Festival, 2022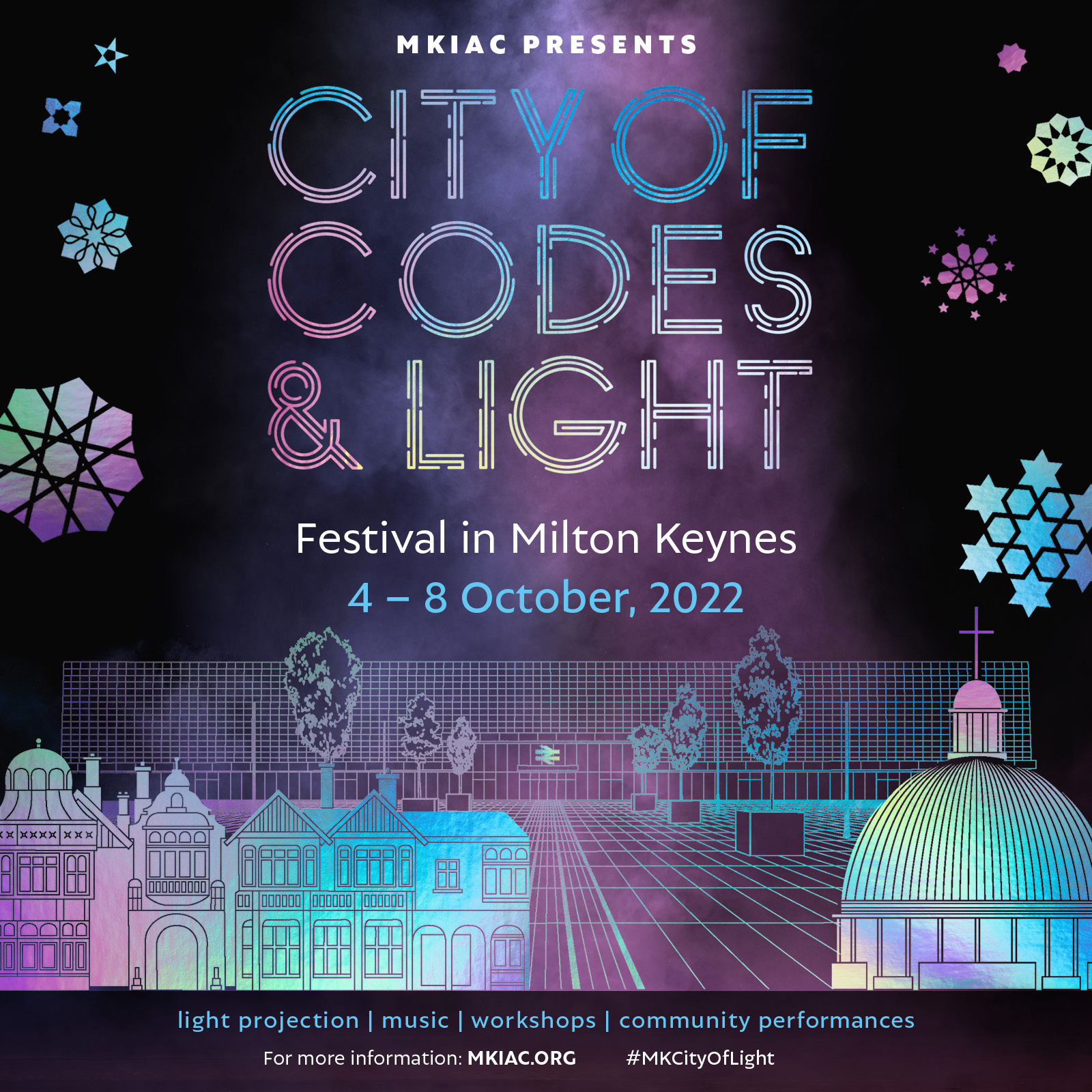 The City of Codes & Light Festival, 2022 organised by Milton Keynes Islamic Arts and Culture (MKIAC) brings together thousands of people who come to enjoy a week of celebrations packed with original exhibits, performances and parades.
It brings diverse communities together to celebrate art, science, maths, and technology as well as Milton Keynes' recent city status. Supported by the city's cultural institutions, this year's edition promises to deliver a captivating blend of media, music and movement. The festival draws from the beauty and ingenuity of Islamic art, science and technology to formulate an unforgettably unique experience.
Immerse yourself in stories told with light, sound and theatre in the heart of the city. See Bletchley Park, Church of Christ the Cornerstone and MK Station Square in a new light with special events from award-winning visual projection companies. Enjoy unique and innovative artistic and technological displays. And so much more.
Celebrate with us as one community at this incredible free event for all. For more information , please see below. For more information and the full festival schedule, see below and follow us on Facebook, @MKIslamicArtsandCulture and Instagram, @wearemkiac
The Programme
Tuesday 4th October
Rhythms of Nature
About: A unique light installation that showcases the Islamic arabesque art form, brought to life with cutting edge 3D animation techniques.
Following traditional arabesque workshops with MK college games design students, Arabesque patterns have been digitised and adapted to create a stunning projection onto onto Bletchley Park mansion. The project has been created with support from renowned immersive media company, MBD, who have guided the students throughout, and provided development opportunities that showcase the use of 3D animation and games design in the arts sector.
Location: Bletchley Park, The Mansion, Sherwood Dr, Bletchley, Milton Keynes MK3 6EB,
Timings:
Admission from 7.00 pm

Projection from 7.30 pm - 9.00 pm
Register Here: https://bletchleypark.org.uk/event_type/whats-on/
Timings:
Admission from 6.00 pm
Concert: 6.30 pm - 7.15 pm
Projection: 7.15 pm - 8.00 pm
Tickets and Registration:
Free to attend but you must book a ticket via eventbrite.
Tickets are not available on the door.
Register Here: https://bit.ly/3U5rmFi
Details:
Free admission and free parking

Refreshments will be available at extra cost
Wednesday 5th October
Impact and Connections; A Changing Climate on our Mental Health
About: A 60-minute panel discussion on the environment and wellbeing followed by a Q&A session.
Climate change is not just an environmental issue, it is also an issue of mental wellbeing. Our world has already changed and is having a direct impact on all our lives, in terms of the environments we live in, our health and the wellbeing of our societies. The climate emergency has begun and the World Health Organisation has encouraged countries to include mental health support in their response to the climate crisis.
Joined-up thinking is required to make sure the link between environment, health and wellbeing is tackled together with scientists, policymakers, and mental health practitioners. We also believe arts and culture professionals have an important role to play, engaging people in this global issue, helping to bring tough issues to the table and facilitating conversations.
This discussion brings together science communicators, artists, students, and mental health professionals to understand the collective importance of the environment for our mental health as well as tangible ways to support our own wellbeing and those around us.
Location: MK College, Woughton Campus West, Chaffron Way, Leadenhall, Milton Keynes MK6 5LP
Timings:
Tea and Networking: 10.00 am
Discussion: 10.30 am - 11.30 am
Register here: https://bit.ly/3quNA5M
Details:
Free admission but must register on Eventbrite
Free parking at MK College
Thursday 6th October
Aashiq Al-Rasul Concert + Radiance Light Projection
Join us for a special evening of fusion music from Nasheed singers, Aashiq Al Rasul whom we are extremely excited to welcome back to Milton Keynes for a concert at Church of Christ the Cornerstone. As well as the launch of 'Radiance', a large-scale projection-mapped artwork that transforms the Cornerstone Church into a moving and evolving canvas of light, colour, and pattern. Limbic Cinema explores themes of mathematics, Islamic art, nature, and community. Radiance celebrates the culture and creativity of Milton Keynes in the centre of the city. Expect to be mesmerised, uplifted, and taken through a journey of harmony and unity.
Please note that tickets must be bought via Eventbrite and will not available to buy on the door.
About Aashiq Al Rasul
Aashiq Al Rasul (AAR) is a music ensemble of like-minded individuals who were brought together through a common empirical belief enshrined in an expression of love towards the Creator and His beloved Prophet Muhammad (peace be upon him).
Since 1998 AAR have illuminated this expression in the hearts and minds of millions, spanning continents and communities. Delivering the fundamentals of tolerance and harmony through a universal language: not of the tongue but of rhythm and melody.
Delivered through a repertoire of classical Qasida, Hamd, Naat, Qawaali and modern Nasheed intertwined with a fusion of languages and beats from across the globe, AAR endeavour to strive and consolidate a truly universal message in order to harmonize the basis of humanity: that of love and peace.
Location: Church of Christ the Cornerstone, 300 Saxon Gate, Milton Keynes MK9 2ES, United Kingdom
Timings:
Admission from 6.00 pm
Concert: 6.30 pm - 7.15 pm
Projection: 7.15 pm - 8.00 pm
Tickets and Registration:
Free to attend but you must book a ticket via eventbrite.
Tickets are not available on the door.
Register Here: https://bit.ly/3U5rmFi
Saturday 8th October
Milton Keynes' City Celebration
The free finale to the brilliant City of Codes & Light Festival runs from 6pm on Saturday 8 October and celebrates Milton Keynes being named a city by Queen Elizabeth II as part of Platinum Jubilee celebrations earlier this year.
Everyone is invited to the city centre for a family-friendly evening of free live music, amazing performances, and a brilliant light display.
The City Council is partnering with MKIAC on the Festival's finale to make it a celebration to remember.
Full details of the event programme are coming soon, but in summary:
Live music and performances on stage at Station Square from 6pm to 11pm – with a laser show at 8.50pm and 10.45pm providing the backdrop to thrilling music from the Royal Philharmonic Orchestra and the Ibiza Orchestra, with some further musical surprises yet to be announced.
A joyous 'digital light parade' combining high-impact drumming with kaleidoscopic lighting design, where artists from two of the UK's most in-demand street theatre companies, Cirque Bijou and Worldbeaters, will lead spectators on a spellbinding parade starting at Church of Christ the Cornerstone at 7.30pm and meeting from 7pm (ending at the Station Square main stage for more entertainment)
A large scale creative projection by Limbic Cinema called 'Radiance'

will transform Christ the Cornerstone Church into a moving and evolving canvas of light, colour, and pattern, exploring themes of mathematics, Islamic art, nature, and community. 7.15 pm - 8.00 pm
Free and no registration necessary