Art in the Park 2023 - stage programme and general information
Art in the Park, coronation celebration
''Roots and Foundations''
Milton Keynes Islamic Arts and Culture (MKIAC) is proud to present Art in the Park festival on the 13th of May, 2023, at Campbell Park 2023!

This FREE event will be a jam-packed day of creativity and connectivity through a combination of music, visual art, creative workshops, a parade and delicious food that reflects the diverse communities of Milton Keynes. Everyone is invited to this family-friendly event, one of the official coronation events of Milton Keynes.
The theme is 'Roots and Foundations', and through our programme and art exhibitions, we hope to reflect on roots' power to hold the ground together. The exact strength is the bond between culture, identity, history and the natural environment. We feel art is a great tool to shine a light on climate change, and through our programme, we invite everyone to #letscreate the better Earth we want the future to exist in.

- Live music and performances on stage at Campbell Park from 13.30 to 21.30. Amongst the event's dynamic line-up of performances are Raka, an 8-piece ensemble that plays traditional music from the Balkans, Ayan De First and The Oduduwa Talking Drummers, who present authentic Yoruba, Ibo and Hausa music from Nigeria.

- The vibrant parade of musicians, dancers and entertainers will commence from The Point at 2.15pm, making its way through the streets of Milton Keynes before arriving an hour later at Campbell Park. This year, it has plans to be bigger and better than ever, with former favourites such as Kinetika Bloco and Route Canal joining the festivities!

- Four art workshops in our Art Village for children from artists including Abu Yahyaz, Shree Desai, and Safira Ali, with mediums ranging from block printing to calligraphy to geometric patterns. The entrance is £4, including access to all four workshops. You will also experience two exhibitions from our community art workshops this year.

• The Community Village will showcase beautiful goods from MK vendors, from candles to clothes, toys, jewellery, sports gifts and artworks.

On Stage at Campbell Park:


| | |
| --- | --- |
| Time | Act |
| 1:00 PM | Born to Perform |
| 1:15 PM | Satyam School of Dance and Music |
| 1:30 PM | Temoor Alam |
| 1:50:00 PM | MK Anatolian Music Club |
| 14:30 | MK Music Hub + members of the London Syrian Ensemble |
| 15:15 | Kinetika Bloco |
| 15:30 | Ayan De First and Oduduwa Talking Drummers |
| 15.45 | MK Chinese Fusion Dance Group |
| 16:15 | Wycombe Steel Orchestra |
| 17:00 | The Old Savoy Jazz Orchestra |
| 18:00 | Eternal Taal |
| 18:45 | Pagrav Dance Company |
| 19:30 | Yemeni Musical and Entertainment Group |
| 20:30 | Raka |
| 21:30 | END |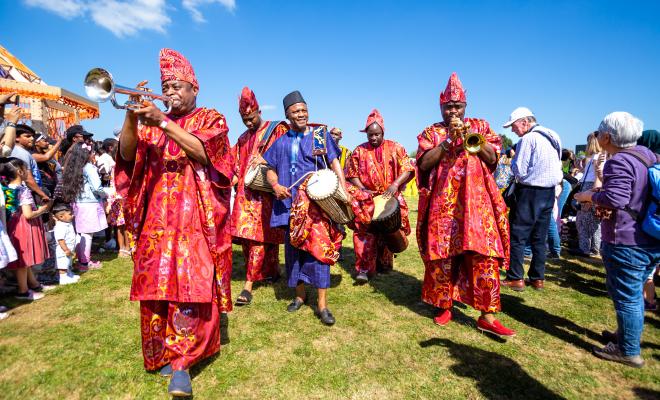 *** FAQs ***
*Timings and Locations*

Live Music and Performances:
Time: 13.00 - 21.30
Location: Campbell Park, Events Plateau - what3words: ///news.verdict.recorders

Carnival of Colours Parade:
14.00 - 15.15
Parade Meeting Point: The Point - what3words: ///laptop.aced.acted
Parade End Point: Campbell Park, Events Plateau - what3words: ///news.verdict.recorders

*Parking*
Try to make your way by walking or cycling and reduce car usage to reach us as parking is limited. The suggested parking is centre:mk Multi-storey Car Park

*Toilets*
Toilets and accessible toilets will be available at Campbell Park.

*Accessibility*
There will be accessible viewing areas and dedicated seating areas at Campbell Park.

*First Aid *
There will be a first aid tent and medics on site.

*Lost Children*
It would be best if you made your way to the information point for lost children or any issues.

*Food and Drink*
Food and drink will be available at MK Station Square from 13.00 - 21.30 pm. We have some fantastic vendors for you, including bubble tea, hot drinks, churros, Indian street food, Caribbean, Lebanese, fried chicken and chips!

Art in the Park is a dry event; no alcohol will be sold or permitted in Campbell Park.

*Pets*
We strongly recommend that dogs are not in attendance at both the parade and Campbell Park due to expected crowd numbers and noise levels.
Other Projects