Creative Conversations
Providing our participants with a creative space to express their thoughts through the Islamic arts-inspired evaluation dome.
At this year's 'Art at the Lake' festival we installed a creative dome frame based on Islamic geometry design. We provided our visitors with tags to offer a space for visitors to express their views and share their comments about the festival.
A few of the questions that we asked were:
As a Muslim do you engage with other communities through these events?
As a Muslim do these events make you feel safer and less at risk of physical and verbal abuse?
As a Non-Muslim how do you feel towards the Muslim Community?
As a young person do you now have a positive attitude to Muslims?
The dome was managed by MKIAC community ambassadors, however, the public enjoyed this area so much so that they continued to later add more of their comments without assistance. This was greatly encouraging and also led to a more free form discussion.
The dome worked as a great tool in encouraging the festival-goers to share conservations, to open up discussions with strangers and gave us an insight to our audiences.
420 tags were filled out and the messages were positively inspiring, encouraging and reflective of the ethos behind our multicultural community arts festival.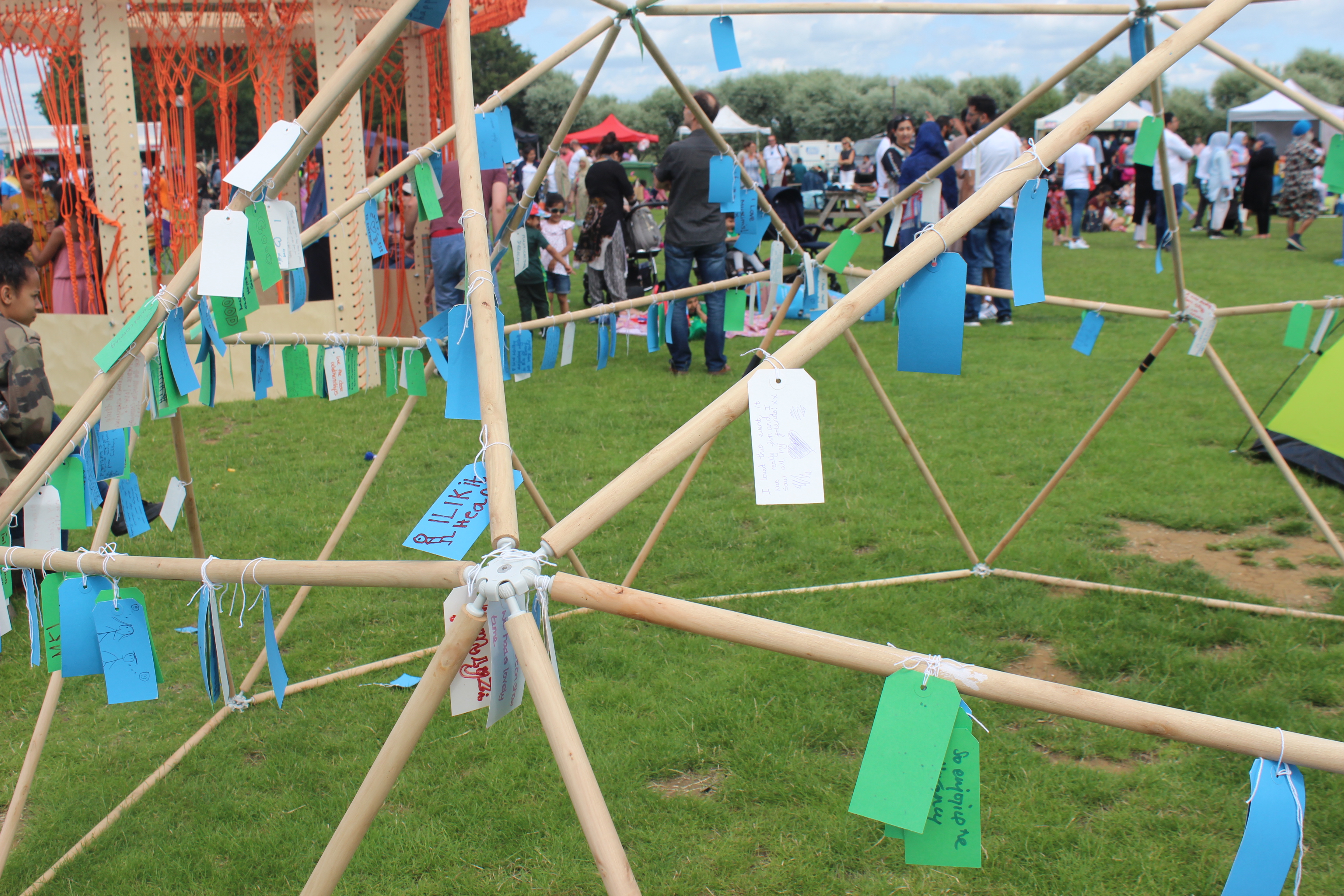 Here are just a few of the lovely comments that we received as a result of this instillation:
"Lovely festival."
"I feel it is very important for the indigenous population to understand more about the Muslim community."
"I grew as a Muslim in MK and growing up we were one of the only Muslim families. It's so nice to welcome more families of Muslim heritage and faith. Events like this are so important to help integrate people and faster understanding amongst one another."
"I am not a Muslim. I feel proud to see that our community can be one what a lovely day. Thank you for sharing your culture with all of us :)"
"Muslims are ordinary people but they have a religion. I don't think Muslims should be treated differently by other people just because they have a different religion."
What did you think about this concept? If you would like to share any comments or feedback with us, then please feel free to contact us via email at MKIAC@mkcollege.ac.uk
Other Projects